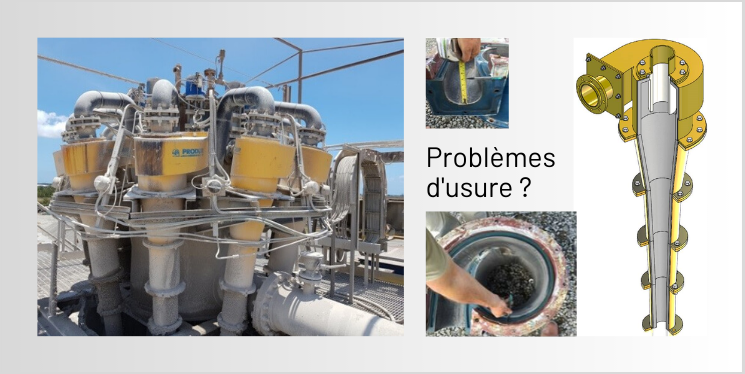 Article • Reading time : 2 minutes • Publication date : 20.06.18 (MAJ 22.12.22)

---
Hydrocyclones are key elements of ore preparation processes. The treatment of gold, nickel, iron, copper, phosphate, manganese ores, etc… use these technologies.
Located after the crushing, screening or washing operations, their function is to concentrate the rich ore before final processing. A good cycloning is therefore the guarantee of an increased operational efficiency.
Produr offers hydrocyclones entirely coated with high performance ceramics, whose exclusive manufacturing process allows the realization of equipment with perfect geometry, without any risk of liner delamination.
Users of hydrocyclones mainly encounter the following problems:
Rapid wear of the lower nozzles, leading to uncontrolled particle size cut-off with consequent loss of efficiency and constant adjustment of the downstream treatment parameters, before nozzle replacement.
Hydrocyclone leaks requiring isolation and repair or replacement of the affected unit.
Rubber liner disbondment completely changing the nominal cut-off.
These phenomena lead to production capacity reductions or unscheduled shutdowns for repair or replacement of the affected equipment.
Produr's reliable solution:
After the production parameters analysis (wear, speed, flow, particle size, etc.) and from drawings or on-site measurments carried by our teams, we manufacture in reverse engineering a new equipment, partially or totally lined with ceramic, while maintaining their internal geometry:
Characteristics of the equipment are similar to the orginal.
Measurements are taken including the positioning and sizing of the supports
Connections to the inflow, overflow and valves are measured precisely.
Assembly is done in place of the existing cyclones by using adaptor flanges.
The use of advanced ceramics tailored to each area of the cyclone optimizes the overall lifetime of the equipement. Durhart electrofused ceramic is used for the head and upper parts of the cone.
Aldur ceramic is used for the lower parts of the cone and for the spigots, ensuring a constant cut-off for downstream processing operations.

Are you interested in a reliable solution for your equipment?
Fill out our contact form or call our team at +33 (0)4 79 62 06 73.