Performance in any angles!
Produr designs reinforced ceramic piping with an adaptive geometry, as well as pneumatic conveyors for abrasive material applications.
This innovative solution allows the installation of a pipe lined with a specific protection material, resistant to wear on all pneumatic conveyors with complex angular positions.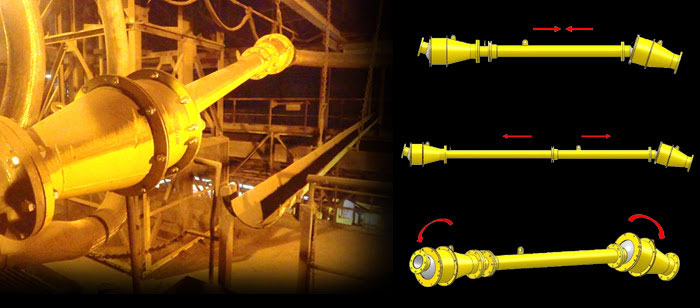 This assembly is composed of two ceramic cones mounted on ball joints and a telescopic straight piece.
These assemblies have exceptional wear resistance.
The choice of wear resistant materials is adapted to the specificities of the equipment, the materials transported and the environment.
The use of a single part to manage all connections to the existing installation simplifies maintenance operations and inventory management.
Typical applications: boiler feeders, ash re-injection feeders
The design allows the connection of pipes where the position of the inlets and outlets in the X, Y and Z axes is not known or not constant
The sealing of the cones and the telescopic part is ensured by gaskets adapted to the operating conditions
The most advanced wear-resistant materials such as Durhart electrofused ceramic, Aldur sintered alumina or Duraplate are used in the manufacturing process.