Smooth, crack free plate for increased wear resistance
DURAPLATE HiSPEED ® is a highly wear-resistant plate with a smooth and crack-free surface, specially designed to provide exceptional sliding properties compared to standard wear plates. This plate consists of fine chrome carbide particles distributed within a ductile matrix, granting it remarkable wear resistance across its entire thickness.
Thanks to the presence of these chrome carbide particles, DURAPLATE HiSPEED ® provides increased impact resistance. These intricate carbides are dispersed within a tough ductile matrix, ensuring optimal durability in demanding operating conditions.
This plate also stands out for its smooth surface, which significantly reduces the friction coefficient. As a result, this reduction can decrease clogging by up to 75%, a highly advantageous feature across various industrial applications.
In summary, DURAPLATE HiSPEED® is an advanced product that offers a unique combination of wear resistance, impact resistance, and improved sliding properties. It presents an ideal solution for applications where durability, performance, and efficiency are paramount.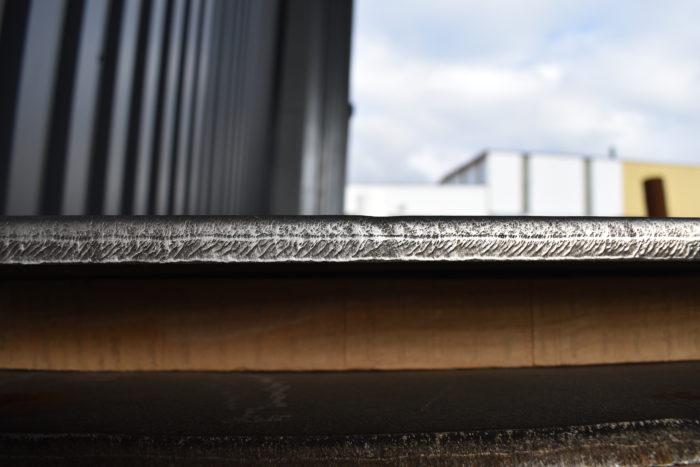 Comparison between DURAPLATE HiSPEED® and a standard CCO cladded plate:
Standard CCO Clad Plate
Rough and degraded surface
Effects of product adhesion, clogging
Weld beads
Mandatory to orient the plates for oscillated beads in order to limit wear.
Significant and uncontrolled dilution
Reduction in the plate's effectiveness midway through its lifespan.
Significant cracking
High stress levels within the cladding, leading to spalling.
Duraplate Hi-Speed
Smooth Surface
Low coefficient of friction, reduction in adhesion and clogging
No weld beads
Multidirectional anti-wear properties
No need for plate orientation
Very low dilution with uniform fusion
Consistent hardness throughout the thickness, consistent wear resistance throughout the plate's lifespan
Very low cracking
Minimal residual stress, ease of implementation
Using Duraplate HiSPEED ®
Laser / Plasma Cutting : No constraints, standard parameters, no stress release during cutting.
Bending / Rolling: Cladding must always be on the inside of the bend radius to avoid tensile cracking when bending on the outside of the bend radius.
The guaranteed minimum bending radius is 15 times the thickness.
Welding: Assembly using our CORINOX 307 wire for root passes, followed by possible final passes using our EASYCOR 70M wire.
Welds should be protected using our DURCOR31WO wire.
The exceptional versatility of DURAPLATE HISPEED ® makes it the ideal choice for a variety of industries and applications, including:
– Mill linings
– Screens
– Hoppers
– Chutes
– Dump truck linings
– Loader and excavator buckets
Whatever the industrial application, DURAPLATE HiSPEED ® offers a reliable, wear-resistant solution to meet the most demanding requirements.

CHARACTERISTICS
Total thickness ranging from 10 to 31 mm
Hardness of 58-60 HRC
Smooth surface, without visible cracks or weld beads.
Maintains wear resistance up to 450°C (842°F)
Low coefficient of friction
Excellent resistance to wear from impacts and abrasion.
Smooth and linear fusion line
BENEFITS
Extended lifespan
Enhanced productivity
No plate distortion
Reduced maintenance requirements
Lower operating costs
Versatile and adaptable to various applications