Creusabro Dual Wear resistant steel

Creusabro® Dual is an advanced abrasion resistant steel alloyed with a high titanium content (0.6%).
This innovative grade is mainly intended for severe in-service sliding wear conditions in applications where conventional water-hardened steels (500HB, 550HB), hardened plates or chromium cast iron are traditionally used.
Compared to the Creusabro® 8000, the Creusabro® Dual is based on an innovative metallurgical concept, based on a specific chemical analysis. In addition, it is oil-quenched to reduce the level of residual stresses in the plate after heat treatment.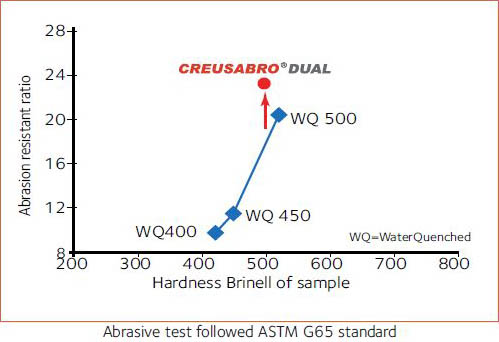 Unique metallurgical concept:
This superior wear resistance as well as resistance to abrasion combined with high impact is mainly due to :
Homogeneous precipitation of extremely hard primary titanium carbides in the metal matrix, resulting in a significant increase in sliding wear resistance under extreme service conditions.
Surface hardening induced by a work-hardening ability called TRIP effect (plasticity-induced transformation).
In addition to the high resistance to severe tangential abrasion, the formability is maintained in reasonable proportions and allows the manufacture of rolled or bent parts in crunching.
No other abrasion resistant steel at 500 HB than Creusabro offers such high abrasion resistance combined with high impact strength in service!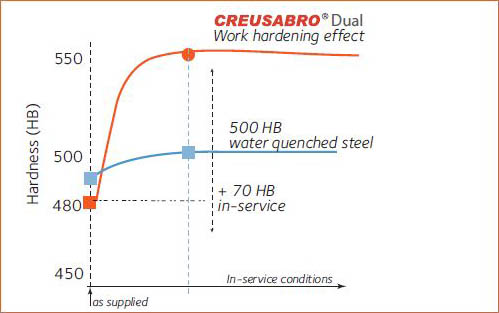 TRIP effect:
Plastic Deformation Induced Transformation

In contrast to a totally martensitic microstructure, the mixed structure of Creusabro® DUAL (martensite, bainite and residual austenite) gives it a capacity for localised self-hardening when subjected to plastic deformation in service. This plastic deformation induces a surface hardening phenomenon by in-situ transformation of the residual austenite into extremely hard martensite while preserving an underlay ductility. This allows for increased effective resistance to abrasion and impact in service.
Application:
Creusabro® Dual is the ideal product for applications in mining and quarrying, cement works, steel works, public works, agriculture and recycling.
This grade resists to hot abrasion up to 450°C, whether in wet or dry conditions, with sliding or impact, whereas conventional water-quenched steels are restricted to 250°C.
Titanium carbide:
Unlike conventional water-hardened wear-resistant grades (500 HB, 550 HB), the extreme abrasion resistance of Creusabro Dual is enhanced by the presence of primary titanium carbides precipitated at the solidification stage during casting in the steel mill in the form of semi-finished products (ingots, slabs) before rolling and heat treatment.
These titanium carbides have a hardness of around 3000 HV (Vickers hardness) and are the cause of the presence of numerous hard points in the steel matrix, similar to the crushed gravel in concrete.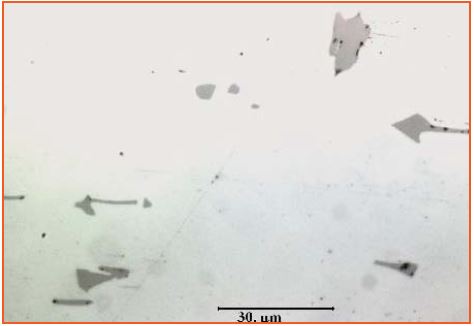 Extremely hard primary titanium carbides homogeneously distributed in metal matrix.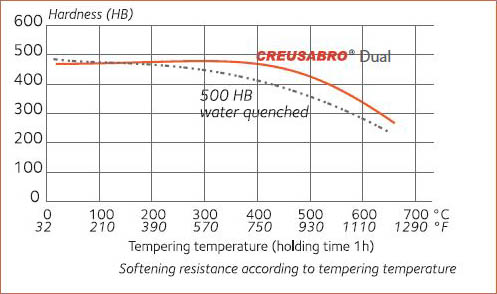 High temperature properties:
The composition of Creusabro® and in particular its Nickel and Molybdenum content provides a high resistance to hot softening, superior to conventional water-hardened 500 HB steels
The thermostability of Creusabro® Dual allows its use in aggressive environments up to 450°C (840°F).
This high performance steel is suitable for all types of abrasion and is the best combination of improved processability and wear resistance.
Main applications of Creusabro Dual abrasion resistant steel
Indicative mechanical properties in delivery condition
Impact Energy
Dimensions and sizes available from stock

Lining of buckets for excavators, backhoes, front loaders, bulldozers;
Wear blades, reinforcements for different types of buckets;
Lining of dumper plate;
Wear parts for primary and secondary crushers;
Lining for vibrating conveyors, crushing units;
Lining of chutes, hoppers… ;
Screens & Trommels ;
Bends ;
Cyclones ;
Deflectors ;
Demolition clamps (recycling) ;
Dredging pipes ;
Fans ;

Hardness: 480
Re (MPa): 1200
Rm (MPa): 1630
A (%) : 10
Modulus of elasticity (GPa): 205

KCVL – 20 °C (J/cm2) : 18

10 to 50 mm :

Other sizes on request.