Laser cutting
Laser cutting is a process that allows extreme precision for a clean final result. By focusing a laser beam, the temperature of a small area of material is raised until it vaporizes. The heat affected zone (HAZ) by the laser beam is relatively small, which explains why the deformation of the cut parts is less.
This equipment allows us to increase the level of precision cutting, for example to realize straight and circular chamfers.
Plasma cutting

Precision Plasma cutting of a steel plate is achieved by a plasma jet generated by the electric arc, that is established between an electrode inside the cutting torch and the steel plate to be cut. The ionized gas mixture at the exit of the nozzle forms the plasma. The calorific power of the jet (temperature about 20,000°C) causes an almost instantaneous melting of the metal which spreads throughout the thickness of the part.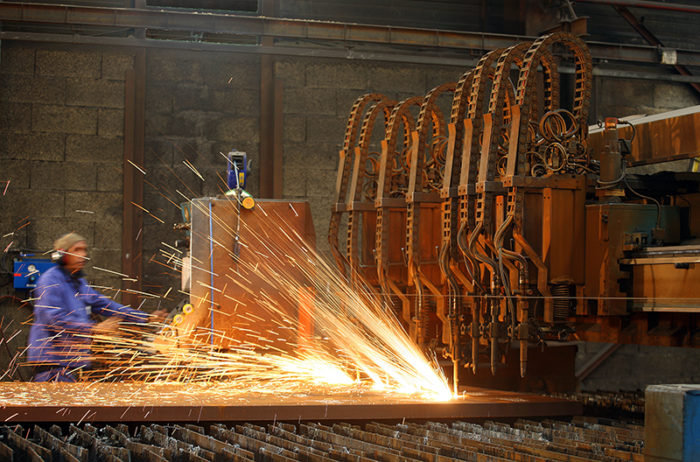 Oxyfuel cutting
Oxyfuel cutting is a process for metals cutting by localized but continuous oxidation, using a pure oxygen jet. To do this, it is necessary to bring the point on the work-piece where the cutting is to be started to a temperature of about 1,300°C, the so-called starting temperature. The cutting jet also has a mechanical role of removing the oxides formed (slag). The efficiency of the cut will be improved by a very high degree of oxygen purity. Oxyfuel cutting is used for mild or low-alloyed steels, and on different thicknesses.
Laser cutting
5 Axes, with tube cutting device
Fast and very precise process
Power : 6kw
Precision : +/- 0,1mm
Table : 2x4m
Plasma cutting
Cutting of thin to medium thickness plates, fast and precise process
Cutting of sheets up to 12 meters long and 3 meters wide
Standard precision +/- 1mm
HPC (High Precision Cutting): precision cutting up to 10mm thickness with 0 undercuts and +/-0.5mm tolerance
Oxyfuel cutting
Cutting of medium to heavy plates
Cutting of plates of 6 meters length and 4 meters width
8 heads machine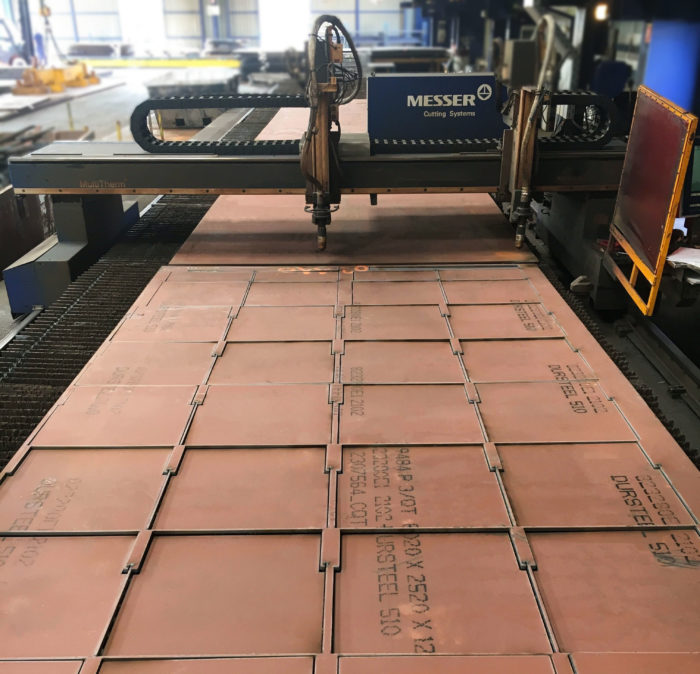 Production Capacities
Thickness from 2 to 250 mm
Small and medium series
Permanent stock
Plates size 12000×3000 / 6000×3000 / 6000×2500 / 6000×2000
Dursteel Wear resistant steels
Creusabro abrasion resistant steels
Construction & high strength steels