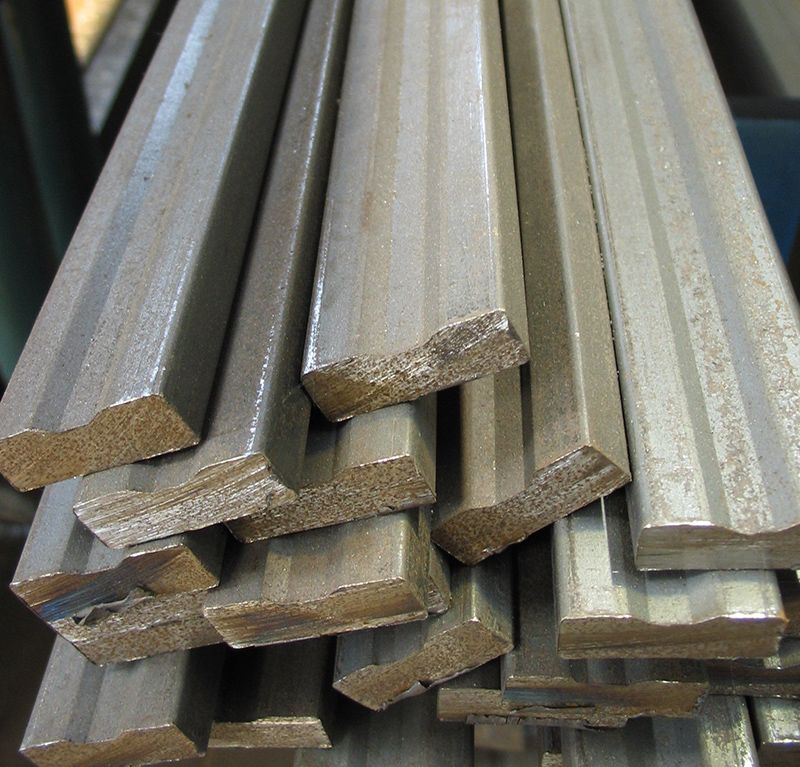 Dursteel Mn – Wear resistant manganese steel
Dursteel Mn is a wear-resistant, work-hardenable and non-magnetic manganese steel. It is characterised by high toughness and excellent weldability. Dursteel Mn is a steel which, under stress, hardens on the surface to resist wear and deformation. When Dursteel Mn is impacted or crushed, the impact or pressure hardens the surface to a depth of 1-3mm up to 540 HB, while the core retains its original hardness of around 200 HB: the mechanical energy transforms the austenitic structure of the surface into martensitic carbides. Dursteel Mn wear-resistant steel is therefore particularly suitable for severe wear conditions combined with impact or pressure. Dursteel Mn should not be used as a wear-resistant steel if the stress energy is insufficient to ensure hardening (please consult us).
| | | | |
| --- | --- | --- | --- |
| Main applications of manganese Steel | Hardness | Mechanical properties | Impact Energy |
| Anti-burglary grids, Screen grids, Scalper bars, Roller rails, Grinding knives, Slide plates for chain conveyors, Grinding hammers, Shot blasting, Impact plates, Impact tools, Lock and safe armouring, Vehicle armouring | in the delivery state > 200 HBW, after hardening 490-540 HBW. | Typical values Thickness 20 mm As delivered Rp 0.2 : 325 MPa Rm : 920 MPa A% : 40 | Typical values Thickness 20 mm Impact energy 27j at -20°C |
Stock program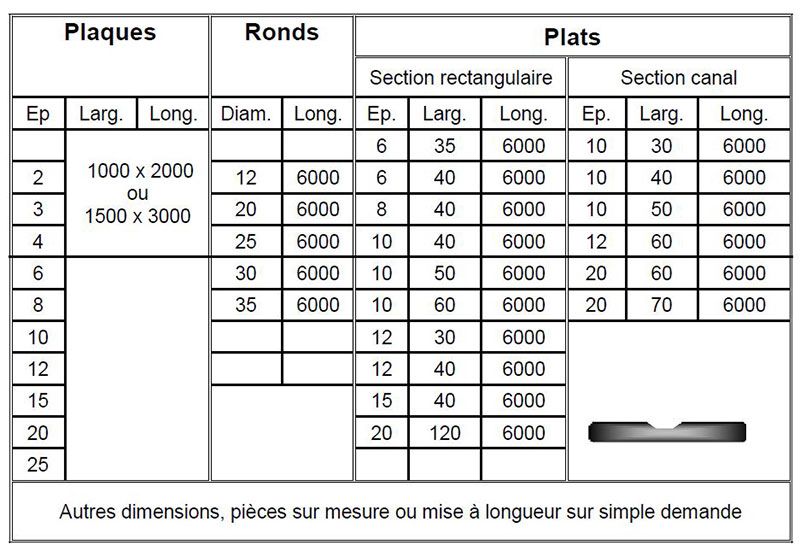 FORMING : the exceptional mechanical properties of DURSTEEL Mn steel make it suitable for cold rolling and bending. DURSTEEL Mn plates can withstand very tight bending radius close to the 1 time plate thickness. Conveyor rail profiles can be easily curved either in the field or in the flat.
DRILLING: Dursteel Mn is difficult to drill. It requires 12% cobalt or carbide insert tools. The feed rate must be sufficient to remove the work hardened area from the previous pass on each revolution. Tool sharpness should be checked regularly. NB: it is possible to obtain smooth holes with a diameter equal to the thickness of the sheet (minimum diameter 10mm) by plasma cutting. Please consult us on this subject.
WELDING: Dursteel Mn is easily welded to structural steel bases. Filler metals: – Safinox R312 type electrodes or equivalent – Nertalic 51 type solid wire or equivalent
REHABILITATION: Dursteel Mn wear-resistant steel can be repaired or recharged using materials of similar chemical composition. Filler metals: – Safuni Manga type electrodes or equivalent.