HARDLITE wear plate
HARDLITE is an ultra thin clad plate that offers one of the highest hardnesses on the market (66-68 HRC). Hardlite is suitable for the most extreme wear conditions with a moderate level of impact. The hardfacing layer is characterized by a low dilution and made of very homogeneous structure with high content of chromium carbide.
Low thickness and mechanical characteristics of HARDLITE make it a very flexible product, easily formable (possibility to make tubes up to Ø100mm).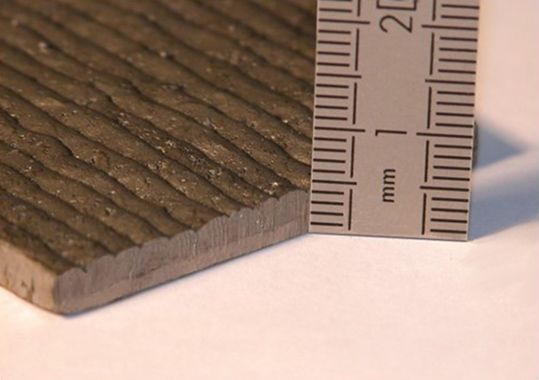 The wear resistance of HARDLITE combined with its low thickness allows huge weight savings in installations.
| | | |
| --- | --- | --- |
| | HARDLITE Clad plate | Conventional Clad plate |
| Thickness | 2+2 | 8+5 |
| Weight per m² | 32 Kg | 104 Kg |
Homogeneous structure and high hardness
Fine grain structure with high chromium carbide content
Hardness: 66-68 HRC
Dimensions: Size (mm): 1950 x 950
Thickness (mm) : 2+2 / 2+3 / 3+2 3+3
Wear resistance of Hardlite wear plate : ASTM G65 laboratory test