DURAPLATE D31 WEAR PLATE
DURAPLATE D31 combines the wear-resistant performance of its chromium carbide cladding with the flexibility of its mild steel base plate. This last characteristic allows an easy implementation: cutting, simple shaping, assembly. DURAPLATE effectively responds to severe conditions of use and abrasion. Made of 100% Welding Alloys, it is a good compromise between price and life span.
DURAPLATE D31 is made up of a cladding of CHROMIUM CARBIDE, deposited in oscillated beads on a mild steel support plate. This very hard deposit is made by parallel beads welded to the base metal.
The clearly visible cracks, perpendicular to the beads, are shrinkage cracks which prove that the stresses due to the deposit have been released. They do not affect the performance of the material. Their location is limited to the hard layer. They do not propagate in the base metal.
The level of dilution is significantly higher compared to wear plate manufactured with DURAPLATE D31T stringer beads.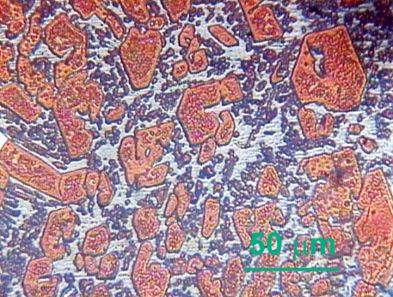 Chromium carbide in an austenitic matrix
Duraplate D31 wear plates applications
Forming: the exceptional quality of Duraplate wear plate makes it suitable for cold forming according to specifications that depend on the combination of the thickness of the hardfacing layer and the base plate. The sheet heated to more than 1200°C can be hot-formed without changing its characteristics.
Areas of use: vibratory feeders, skips, chutes, hoppers, loader buckets, bull blades, dumper bottoms, scalpers, rails and skids, etc…
Welding: all conventional welding procedures apply to Duraplate. Hardfacing can be repaired or completed with DURCOR electrodes or wires of the same composition as the filler metals.
Thickness (mm)
Base plate + Hardfacing
Wear plate D31 Dimensions
5+3
2900 x 1800
6+4
2900 x 1800
8+5
2900 x 1800
12+8
2900 x 1800
Hardness: 60-62 HRC