Creusabro® 8000 Wear Resistant Steel
CREUSABRO® 8000 is an abrasion resistant steel 40 to 50% more resistant to wear than conventional 500 HB water quenched steels.
Beyond hardness, the mechanical properties of Creusabro® are the result of an enriched metallurgy (Chromium, Nickel, Molybdenum and Titanium), as well as a specific heat treatment.
Creusabro® is designed to offer the best balance between exceptional wear resistance and processability.
Unique metallurgical concept:
Abrasion resistance is not only associated with the hardness of a steel in its delivery condition.
The chemical composition and metallurgical structure strongly influence the performance in service.
The metallurgical structure resulting from the chemical composition and production process of Creusabro contributes strongly to increase its wear resistance through the phenomena described above.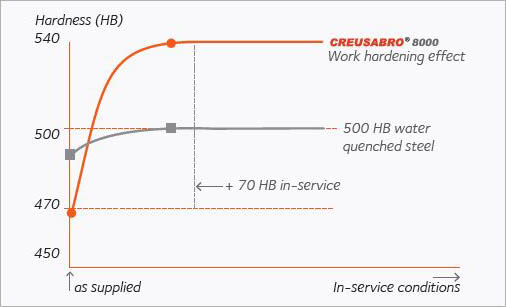 TRIP effect:
The moderate hardness of Creusabro® 8000 in the delivery condition makes cutting and bending operations easier than with conventional water-hardened steels.
In service, Creusabro® 8000 significantly increases its wear resistance through surface hardening (+70 HB) under the action of local plastic deformations caused by the impact of rocks or under the pressure of abrasive particles.
Application:
Creusabro® 8000 is the ideal product for anti-wear applications in mines and quarries, cement works, steelworks, public works, agriculture and recycling.
This grade resists hot abrasion up to 450°C, whether in wet or dry conditions, with slippage or impact, whereas conventional water-quenched steels are restricted to 250°C.
High temperature properties:
The composition of Creusabro® and in particular its Nickel and Molybdenum content provides a high resistance to hot softening superior to conventional water quenched 400 HB steels
Thus Creusabro® can be hot worked at 500 – 550°C (930 – 1020°F), forming thick plates followed by slow cooling does not include a significant drop in hardness.
The thermostability of Creusabro® 8000 abrasion resistant steel allows it to be used in aggressive environments up to 450°C (840°F).
This high performance steel is suitable for all types of abrasion and is the best combination of improved workability and wear resistance.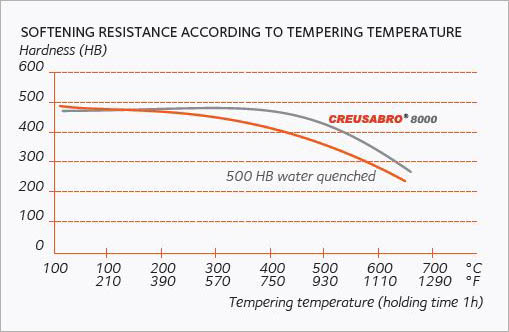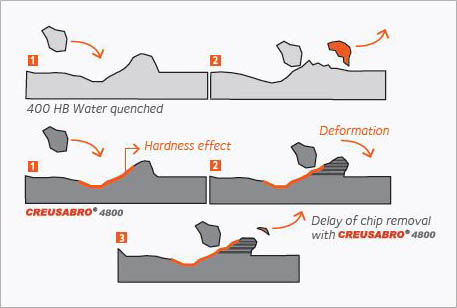 Abrasion / chip removal resistance :
Creusabro® 8000 has the advantage of a higher plastic deformation capacity on impact.
This improved ductility contributes to the chip removal of the steel by abrasive particles, thus ensuring a slower rate of wear (weight loss) than conventional water-hardened steels.
Lifetime:
Whatever the service conditions, the original metallurgical design of Creusabro® 8000 gives the material improved performance in terms of wear resistance and workability compared to other conventional 500 HB water-quenched steels. Creusabro® 8000 is particularly suitable for extreme applications, where severe abrasion conditions are combined with high impact, heat or moderate corrosion.
Main applications of Creusabro 8000 abrasion resistant steel
Indicative mechanical properties in the delivery state
Impact Energy
Dimensions and sizes available from stock

Lining of buckets for excavators, backhoes, front loaders, bulldozers;
Wear blades, reinforcements for different types of buckets;
Lining of dumper plate;
Wear parts for primary and secondary crushers;
Lining for vibrating conveyors, crushing units;
Lining of chutes, hoppers… ;
Screens & Trommels ;
Bends ;
Cyclones ;
Deflectors ;
Demolition clamps (recycling) ;
Dredging pipes ;
Fans ;

Hardness (HB): 470
Re (MPa): 1250
Rm (MPa): 1630
A (%) : 12
Modulus of elasticity (GPa): 205

5 to 65 mm :

2000 x 6000
2500 x 6000
2500 x 8000

Other sizes on request.