DURSiC wear resistant ceramic
DURSIC advanced ceramics are made of silicon carbides. It is an extremely hard material with excellent corrosion resistance and high thermal resistance. Large parts can be produced.
Mohs hardness: 9
Heat resistance: max 1350°C
Very high chemical resistance
Area
Chemical industries, food industries, mining and quarrying, cement plants, etc.
Equipment
Chutes, hoppers, cyclones / hydro-cyclones, piping, etc.
Examples of parts
Tubes, elbows, cones, slabs, tees, Ys, nozzles, etc.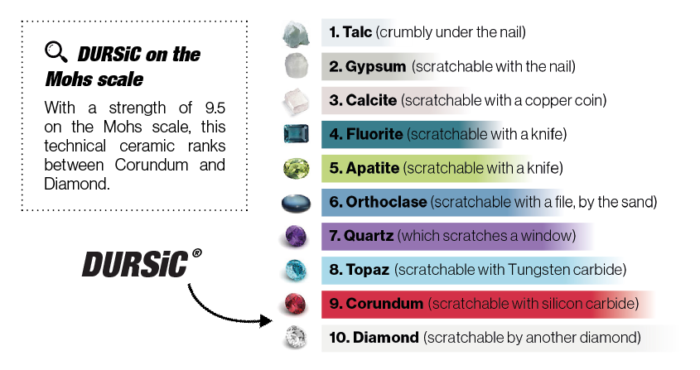 The ultimate solution against abrasion
Invulnerable
Its resistance to abrasion, incomparable on the market, coupled with a complete chemical stability in the most aggressive environments, make DURSiC® the ultimate solution to insoluble problems. The hardness of DURSiC® is not to be proven since its only weakness is diamond.
Incorruptible
Not only does the very low porosity of DURSiC make it impermeable to fluids and gases, but in addition to its mechanical and thermal properties, the specific atomic structure of DURSiC gives it perfect resistance to corrosive agents, whether acids (hydrochloric, sulfuric, hydrofluoric, etc.) or bases (potash, caustic soda, etc.).
Insensitive
Our products made from the abrasion resistant ceramic DURSiC can be used over a wide temperature range, up to 1400°C under air and maintaining optimal properties, and even above 1600°C under inert atmosphere.
DURSiC also has good thermal conductivity and a low coefficient of thermal expansion, making it exceptionally resistant to thermal shock.
Adaptability
The DURSiC ceramic manufacturing process makes it possible to easily produce complex parts for protecting industrial equipment used in many fields of activity.