Discover our range of protection steels:
Protection steels are intended to specific requests:
Metal shields, composite materials, ceramic, glasses…
Protection of armored vehicle, aircraft and warship
Bulletproof glazing, armored windows and doors, shutters, safes, sentry boxes, watchtower…
Protection of buildings, and sensitive sites / areas.
Bulletproof vests and anti-knife, insert, glasses, helmet, visor, shield, and other impact protection equipment.
Used for the protection of combatant, forces of law and order, and security personnel.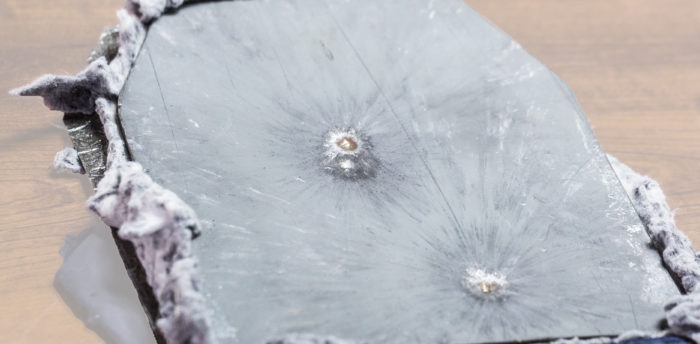 All of our ballistic tests are done according to AFNOR NF A36-800-2.
Shooting ranges:
Whether for shooting sports, police equipment, or military shooting field, PRODUR offers protection steels for the manufacture of armor plates and protection plates that meet the requirements of public tenders.
Our fully integrated processing workshops allows PRODUR to offer custom made armor plates. In particular for laser cut parts, long bending, shot blasting and painting.
Quenched and tempered 500HB steel is widely used by professionals. In the thickness range of 8mm and more, it is the most commonly used steel for the manufacture of armor plates for shooting ranges.
Creusabro is a Quenched and tempered steel with a hardness of 470HB before work hardening, it is easier to work than any 500HB abrasion steel. The surface hardening to 530HB makes Creusabro 8000 a steel for protection plates recommended in many public tenders.
Ballistic protection steels:



SAFE 500 :
INDUSTEEL, PRODUR's exclusive sales partner for the CREUSABRO range, offers SAFE 500. This ballistic protection steel has superior flatness. The combination of an optimized chemical composition and a finely controlled sequence of heat treatment and rolling gives SAFE 500 an optimal combination of weldability, formability and ballistic performance.
Anti-intrusion:
The protection of people is essential, primordial. The protection of property is a major stake. Preventing penetration into an area is a challenge that the materials offered by PRODUR are able to meet. Each material offered by PRODUR is available in the form of sheets or components
DURSTEEL Mn is a hardenable, non-magnetic manganese steel. The unhardened (austenitic) structure gives a very high ductility while the hardened (Martensitique) structure with a hardness of 540 HB gives a very high resistance to drilling or sawing.
Available in:
Rounds from 12 to 35mm, in length 6m
Flat sections from 6 to 20mm, width 35 to 123, in length of 6m
Profiled sections from 10 to 20mm, width 30 to 70, in length of 6m
Plates from 2 to 25mm, in 15000×3000 or 1000×2000