Creusabro wear resistant steels
Discover CREUSABRO® wear resistant steels range :

The Creusabro® range is based on a different manufacturing process and metallurgy than the low carbon martensitic wear resistant steels.
Creusabro® wear resistant steels are designed to offer the best combination of wear resistance and processability:
 Wear resistance in service is significantly improved by a surface hardening effect of +70 HB due to local plastic deformation caused by impact with rocks or pressure from abrasive particles. This reaction is known as the TRIP effect (Plasticity Induced Transformation).
The moderate hardness in the delivery condition improve processability of complex parts in the workshop, without compromising the wear resistance in service applications.
Due to its specific metallurgy, Creusabro® is heat resistant up to 450°C, which benefits from being hot worked without complicated heat treatment.
Creusabro® has a high corrosion resistance, outperforming standard abrasion resistant steels in corrosive and abrasion affected environments.
---
Creusabro®, a gain in productivity:
Creusabro® plates are recognised worldwide and help to extend the life of mining equipment (mobile or fixed) or in many other industrial applications. Creusabro® abrasion resistant steels are particularly appreciated by end-users and workshops that recondition worn out equipment or produce wear parts. Creusabro® makes it possible to adapt buckets, crushers, etc. to the specific needs of each end-user, which improves the performance of the machines and therefore your productivity.
Creusabro® offers the perfect combination of wear resistance and easy processing for the most severe manufacturing and operating conditions.

---
Longer service life:
Long-lasting wear parts play an important role in achieving optimal operational performance and avoiding costly machine downtime. Creusabro® steels have proven to exceed the wear resistance of conventional water-hardened plates: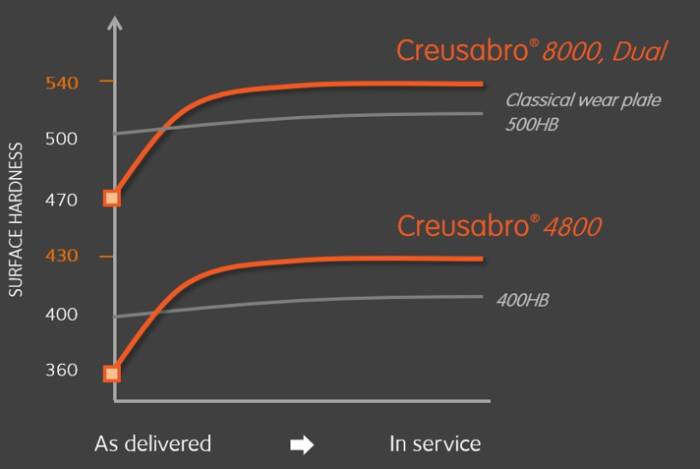 TRIP effect (Transformation Induced by Plasticity)

Produr will help you on your way to success with our extensive industrial experience and our teams of specialists who are there to support you.
We distribute worldwide services adapted to your needs and promote internal R&D to maintain a constant innovation approach.
THE CREUSABRO® RANGE OF WEAR RESISTANT STEELS: